Unlike last year, 2022 kicked off with lower ferrous scrap prices in the Midwest. Historical trends generally start the new year with a market increase. Last year, Chicago enjoyed a $90 – $100 per gross ton jump across all ferrous commodities. Market's remained quiet the first week of 2022 with both buyers and sellers waiting for Detroit's steel mills to make the first move. Few deals were made in Chicago which further delayed the release of Fastmarkets-AMM.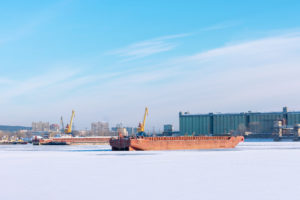 Winter months are grueling on scrap dealers due to inclement weather and logistical challenges. January, however, was predicted to be a weak due to slow export and slim mill order books. As finished steel products start to fall, and inventory builds, scrap prices were destined to succumb to the downward pressure. In the end, Chicago's ferrous scrap market settled down $60 – $70 per gross ton from December's numbers.
"Inclement January weather will reduce scrap flows and supply," states Lou Plucinski, President. "At this time of year our team is laser focused on transportation challenges, machinery maintenance, river closers and decreased trucking efficiencies that tighten scrap supply."
The lack of export demand was a major contributor to this month's market decrease. On average the US exports 150,000 tons per month. With the dormant export market these coastal tons are now looking for domestic homes. Turkey, our largest exporter, is experiencing inflation and volatility due to a weak Lira, a 50 percent natural gas increase, and 125 percent increase on electricity costs. The absence of the export market reduced scrap dealers upper hand this month.
On a positive note, CME Busheling started off strong with 376 lots traded, totaling 7,520 gross tons on January 3rd, with an additional 204 lots (4,100 tons) booked days later, all at prices around $580/GT. Future's holding steady and market volatility could signal an ideal time for your companies to consider hedging material.
As the first week of 2022 comes to an end not much has changed in the non-ferrous scrap market. Prices remained flat across all non-ferrous commodities and most do not see much change for the balance of the January. Both domestic and international demand remains strong, however the container shortage has given domestic consumers the upper hand. The outlook for non-ferrous scrap prices is bullish for 2022 with secondary aluminum predicted to lead the way.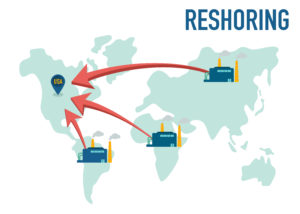 In contrast to a gloomy January market, the conversation of Reshoring has been brought back to the table for many US manufacturers with production overseas. This past years supply chain chaos and nightmares have companies seriously considering or taking the action to bring production back.  Although the cheap cost of labor has mainly won the battle in countries such as China, many companies have realized the cost of supply chain disruptions is not worth it. Large automotive companies such as General Motors and Toyota are investing billions to avoid the disaster they've seen throughout the 2020-2021 pandemic. More US manufacturing means more scrap, a win win for all parties. Count on BL Duke River Terminal to create solutions for your supply chain disruptions. Whether it's transloading, stevedoring, warehousing, or final mile delivery, let us take a load off your hands to secure your finished goods.
Not partnering with BL Duke yet?  Contact us to take a fresh approach at your recycling program.  With BL Duke, you can rely on transparency through our customer portal, competitive pricing through cost effective logistics, and 24/7 service.