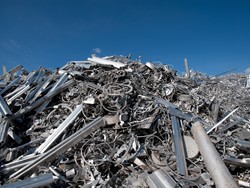 After a lot of volatility over the past six months, reports are showing that ferrous scrap prices are expected to stay fairly stable during the month of September. Some dealers have even predicted a slight increase in the market, which means the scrap industry can sit back and enjoy a little bit of calm — at least through the rest of this month.
With recent demand from domestic mills at stable levels and increased sales to export markets, the scrap market remains flat in the short term and charts a strong course for the extended future.
What is the Outlook for Scrap Prices in September?
So what's allowing for the more stable (and possibly slightly stronger) pricing outlook? It's at least partly due to the fact that some mills are starting to make queries and looking to take on additional tonnage of shred and cut grades. Additionally, steal prices have reached a level of consistency prompting increased orders for many mills.
Even with the prices of scrap increasing for September, there isn't expected to be a spike like there was in August, during which many markets stated $80 per gross ton. There's quite a bit of talk that prices could drop anywhere between $10 and $20 in September. However, with scrapyards maintaining much lower inventories, mill buyers will have to make sure they secure deals so they're able to get the scrap they need.
There are currently two major wild cards that could actually push the scrap market up higher:
Having a lower water level on the Mississippi River is actually restricting the trade flow.
The potential labor strikes at U.S. Steel Corp. and ArcelorMittal USA could create a significant increase in demand due to electric-arc furnaces that rely solely on scrap as their way of charging.
Time will tell what we can expect in terms of future scrap prices, but at present the market seems to have evened out after the recent turbulence.