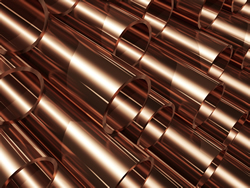 Investors who have been concerned about the long-term viability of copper can put their concerns to rest, as the outlook on its value is quite strong. Prices are currently volatile, owing in part to the European debt crisis, but copper is still a smart investment in the medium- to long-term in large part due to a limited supply across the world. In short, the upside on copper is tremendous, and prices will likely rise following the resolution of Europe's financial troubles in the future.
Fundamentals of the Copper Market Remain Strong Due to Continued Demand
Copper is a basic resource, and is used heavily in the construction industry — it is even used in the production of power lines — which is itself a driving economic force. The fact that copper supplies are limited internationally means that its price remains high despite global financial turmoil. The cost of copper production is small but is itself inflated due to the realities of supply and demand, raising the commodity's price on the whole. This is part of the reason that the price of copper recovered faster than many other commodities after the recent U.S. financial crisis.
While 2012 is expected to see a deficit of about 250,000 tons, copper prices are expected to recover completely in 2013, when it's expected that supply and demand will reach a balance. The copper-concentrates market, however, is expected to continue to sustain a deficit, as production problems and disruptions are expected well into 2015. This is expected to ease with an increase in smelting capacity in Asia.
When it comes to refined copper, the global market has sent mixed signals. China — the largest consumer of copper in the world — has seen its imports of the metal increase by 41% in the first half of 2012, though speculation is that this is more due to restocking than anything, as China's overall demand for copper has slowed. This is expected to change as the government's economic stimulus plan is implemented. Meanwhile, demand is Europe has decreased, and has stayed flat in the United States.
B.L. Duke Offers Copper Scrap Processing and Brokering Services
Despite some short-term instability, copper is still a sound investment, and its worth is expected to increase in the medium- to long-term. At B.L. Duke, we help companies in the Chicagoland area with comprehensive scrap metal processing and brokering solutions, including ferrous and non-ferrous metals. Contact us today for more information or to schedule an on-site consultation.