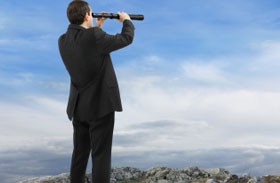 While the demand for non-ferrous metals has been better as of late, ferrous scrap metal's demand has been underwhelming to say the least.  The wild volatility that plagued the market in 2012 seems like a distant memory.  From May of 2012 – November 2012, Chicago's #1 Heavy Melt (American Metal Market) realized a minimum of $25 per gross ton increase or decrease from month to month.  Since November 2012 prices have been steady, only declining $10 per gross ton over a four month period.  This brings up two major questions:  Can we make sense of what has been happening in the market this last year? If so, what can we expect in March and beyond?
The answers to these questions may be simpler than you think.  Last month I attended The Precision Metalforming Association – Chicago District's economic outlook meeting featuring William A. Strauss, the Senior Economist and Economic Advisor at the Federal Reserve Bank of Chicago.  He started his lecture by stating, "I have good news and bad news.  The good news is that the United States is the strongest economy in the world.  The bad news is that the United States is the strongest economy in the world."  After contemplating Mr. Strauss' lecture I decided to take a look at the US economy, specifically the GDP growth rate, to see if there has been any correlation to Chicago's scrap metal market.  What I found should not be shocking, both the GDP growth rate and Chicago scrap prices have been trending downward slightly since 2011.  This is inline with opinions that manufacturing has lead the economic recovery.  With the manufacturing sector cooling off over the last year, so has the overall economy.
Although manufacturing and the economy have slowed, by no means should we worry about the economy contracting and scrap prices returning to 2008 – 2009 levels.  However, without an increase in demand for steel there is no reason to believe that scrap prices will rise with any significance.  Regional supply and demand forces will play a factor in pricing from month to month for the foreseeable future.  This brings us to March 2013.  Though steel demand remains weak, weather conditions and less than desirable prices have put a squeeze on the scrap supply in the Midwest.  "I think some mills came up short on their buy," said a Midwest broker in the American Metal Market's article Tight Supply Expected To Drive Up Scrap Prices,  "with February being a short month and inventory reductions at mills and dealer yards, the March market is poised for an increase."  March prices may not skyrocket but I do believe they will rise.  I will be looking for increases of $10 per gross ton, recovering the price decrease experienced in February.  For additional market information please contact B.L. Duke.