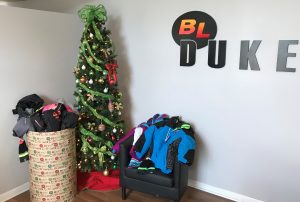 The end of the year is always filled with excitement! With Thanksgiving in the rear view mirror, people shift their focus onto holiday parties, door busting deals and New Year's Eve plans. We find it important to remember that it is also the season to be grateful.
B.L. Duke will continue our commitment of being active in the community by hosting a coat drive for Pillars Community Services.  We're looking for brand new winter coats and accessories (hats, scarves & gloves) for children ages 0-6 years old. B.L. Duke will be collecting monetary and new coat donations through December 13th. Industrial Buyers Shannon Collins and Kaylee Garvey will then use those funds to buy new coats and deliver them to Pillars Community Services on December 15th. Email [email protected] or [email protected] if you would like to get involved, we can even arrange trucking if you need your donations picked up!

The end of the year also brings us time to reflect. B.L. Duke has been blessed this year, giving us the opportunity to give back as often as possible. This year B.L. Duke teamed up with the Illinois Trucking Association to deliver goods and supplies to those affected by Hurricane Harvey down in Houston. We collected donations at our Forest View and Joliet locations from employees and customers. We are proud of our efforts and are pleased to say that we collected a full semi-trailer load of supplies for those in need.
B.L. Duke also hosted its annual Breast Cancer Research Foundation fundraiser at our Forest View Processing Yard. This year, we raised money in a new way. We hosted our first "Tacos for Ta-Ta's" party to help raise funds for breast cancer research.  B.L. Duke donated over $2,000 generated from our over the scale business from this event to the Breast Cancer Research Foundation!
From the B.L. Duke family to yours, we wish you the happiest of holidays and a safe and prosperous New Year.