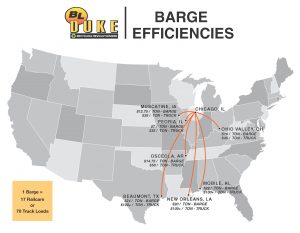 The addition of barge transportation is an example of how B.L. Duke is revolutionizing Chicago's metal recycling industry and maximizing our customer's value.  The opening of B.L. Duke's second yard, located in Joliet, IL has added to the company's success in the past year.  "This was the largest expansion project in our company's history," states Lou Plucinski, President of B.L. Duke.  Our 25 acres expand B.L. Duke's array of logistics to now include dual barge docks, dual rail spurs in addition to our trucking services.  Barge access has reduced transportation cost and created operational efficiencies, facilitating new consumers in stronger markets, all, making B.L. Duke more competitive and driving our customer's value.
"Logistics are B.L. Duke's largest variable expense," states Plucinski, "minimizing this cost was paramount as it gives us a competitive advantage in the Chicago industrial market."  Moving material via barge has cut our transportation cost significantly.  For example, it costs over $100/NT to move material via truck to Mobile, AL but only $25/NT via barge.  The savings allows us to maximize our customer's value and offer them a more competitive price.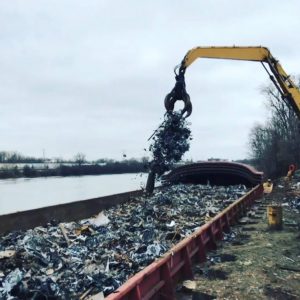 Barge accessibility also creates operational efficiencies by reducing trucking, which improves material flow and adds to our material handling efficiency.  One barge is equal to 17 railcars or 75 truck-loads.  Not only are we cutting costs by limiting trucking but by also reducing time, and making transportation more efficient.  These efficiencies reduce environmental emissions, making B.L. Duke a greener company; another example how B.L. Duke is revolutionizing the metal recycling industry.
Unlike other Chicago based scrap recycling companies, barge access has allowed B.L. Duke to expand our reach by adding new consumers in stronger markets.  We have created new scrap homes along the Mississippi, Ohio Valley, Gulf Coast and export markets.   We are moving material via barge to places as close as Peoria, IL and Muscatine, IA as well as down south to New Orleans, LA and Mobile, AL.  The opportunities are endless when it comes to the efficiency of moving scrap metal via barge.
Contact us today at 773.778.3000 or [email protected] to learn how our operational efficiencies will add value to your metal recycling program.