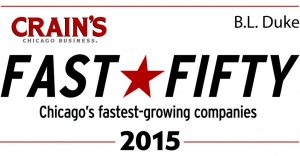 We're more than excited to announce that B.L. Duke was chosen as one of Crain's 2015 Fast Fifty Companies! Every year, Crain's releases their infamous Fast Fifty list, which recognizes companies that have shown significant growth over a five-year period.
According to Brigid Sweeney of Crain's Chicago Business, "B.L. Duke was recognized because the company has grown nearly 300 percent over the past five years by recycling metal, plastic and cardboard refuse, processing it and selling it to steel mills and end consumers."
The list includes Chicagoland companies from the IT, Healthcare, Construction, Transportation and many more industries and we're honored to be the only company representing the recycling industry this year.
"We're humbled to have made the list among so many notable companies.  It's an honor to be recognized," said President & CEO Lou Plucinski.  "I remember not that long ago loading our first truck and today due to the tenacity and creativity of our team we're shipping multiple commodities via barge on a monthly basis."
When Lou was asked what is currently spurring our rapid growth, he explained without hesitation, our sales and operations staff.  B.L. Duke has been successful at acquiring new market share but even more successful at retaining it.  We can only attribute that to our team creates great relationships and delivers on what we promise.
B.L. Duke's team is revolutionizing the recycling industry.  We're committed to evolving our practices as the industry needs change.  We recently invested in the latest technology in scrap management which creates a new level of communication and transparency with our customers.
For a fresh look at your recycling program, contact us at [email protected] or call 773.778.3000.