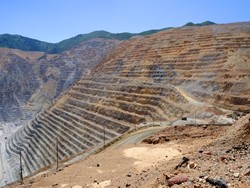 With world demand for copper declining thanks to the uncertain economic climate, copper prices are falling as well. Japan, one of the world's leading copper consumers, has seen shipments drop 8.1% from this time a year ago. Other signs of economic slowdown that are keeping copper prices low include low growth in China and the continued euro debt crisis.
China, the world's largest copper consumer, has seen six straight quarters of weakened growth and little demand for new copper. There has also been a noticeable decrease in exports to the European Union. Thanks to the debt crisis and Greece's unstable stance in the European Union, exports have dropped the most since October 2009. Services and manufacturing in Europe also shrunk for the sixth straight month in July.
The Forcast for Copper in the Near Future
Prices for copper delivery in December are hovering around $3.46 a pound, and on the London Metal Exchange a three-month contract fell half a percent to $7,580 per metric ton. Many analysts are worried that these low prices and the lower level of exports are signs that the global economy has not turned around.
A positive sign for the copper market — and the global economy as well — includes a stronger-than-expected housing market in the United States. New construction in the U.S. housing market generates approximately 40% of copper demand. Coming out of a several month low, the rebound in the housing market could change copper prices if there is continued growth.
The Long-Term Copper Market is Expected to Remain Strong
In the long-term, prices should remain steady and have the possibility to increase thanks to a move made by BHP Billiton, the world's largest mining company. The company announced that they are putting on hold an expansion of the Olympic Dam mine in Australia. This project would have increased the world supply of copper drastically. It was expected that there would have been a fourfold increase in copper, producing 750,000 tons a year. This increase would have flooded the market and driven down prices even further. However, after seeing profits recently dive 58%, BHP Billiton decided against the expansion.