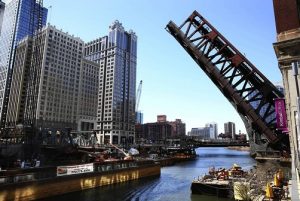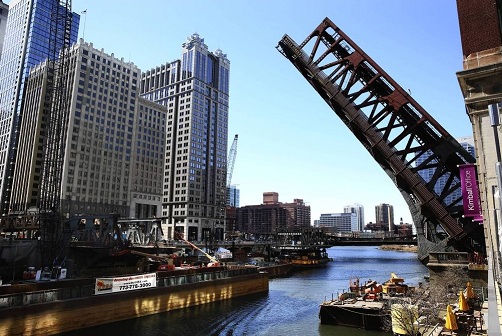 We are so excited to have won the bid to assist in the Wells Street Bridge Reconstruction Project.  B.L. Duke has been award the contract to transport and recycle the scrap metal from the 91 year old bridge.
Out of the Box Thinking
While most demolition projects are complicated; the Well Street Bridge has its own logistical challenges. This project is in the heart of the Loop where the hustle and bustle of cars, buses, trains, and pedestrians make things a bit more difficult. Then throw in the fact that the bridge repair is over the Chicago River and you have the combination for obstacles. Using trucks and standard equipment to move materials, equipment, and scrap metal would take valuable time.  Our team at B.L. Duke led by Lou Plucinski came up with a solution to this logistical issue and got creative. Instead of the ordinary, Lou contracted two diesel powered barges that would anchor under the bridge and will prove to be the perfect platform for the steel to be recovered.
Solving Logistical Challenges
Doing business in Chicago's metropolitan area as efficiently as possible is B.L. Duke's primary concern.  The barges provide the most efficient method of transportation for the scrap metal recovered from the Wells Street Bridge. According to U.S. Dot Marine Administration, barges can move one ton of steel over 500 miles per gallon of diesel which is over double the efficiency of using rail car; ultimately keeping costs down on the project and protecting the environment at the same time.
The Wells Street project is but one example of B.L. Duke's ability to bring out of the box thinking and innovated logistical solutions to further its customers' goals.   If your company needs assistance with a demolition project or has scrap metal or other recyclables; contact B.L. Duke today.