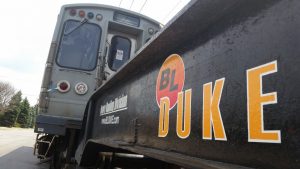 B.L. Duke was awarded the bid to remove and recycle 85 Chicago Transit Authority Railcars. These cars have been in service since the early 1960's and are nearing the end of their lifespan. According to the CTA, over1,300 railcars currently operate over 8 routes.
As a part of Building a New CTA and Building a New Chicago, "The CTA has programmed $455.1 million over the 5-year period for the purchase of new 5000 Series railcars. The new cars will replace the 2200-, 2400-, and 2600-Series rail cars that have reached the end of their useful service lives."
B.L. Duke has a competitive advantage with our vertically integrated Recycling, Demolition, and Logistics divisions. According to Lou Plucinski, President of B.L. Duke, "We provide a multitude of services which allows our customers to consolidate vendors and operate more efficiently; saving them time and money." B.L. Duke is the first recycling company to be awarded the business that has the capability to not only recycle, but also transport the CTA rail cars. We own and operate the heavy equipment and trucks needed to safely handles these railcars.
Please contact us at B.L. Duke today for more information on how we can help your company or municipality recycle.