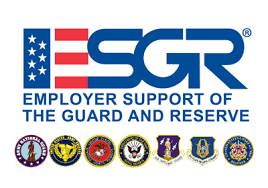 In honor of Veteran's Day, we wanted to shine light on a program dedicated to warriors in the workforce. The Employee Support of the Guard and Reserve is a program that supports and builds understanding between employees enrolled in Reserve Services and their employers allowing them to engage and remain in military duties. These citizen warriors could not defend and protect us at home and abroad without the continued promise of meaningful civilian employment for themselves and their families. ESGR has continued to adapt to meet the needs of Reserve Component members, their families, and America's employers by joining forces with a network of other national, state, and local government and professional trade organizations.
Last year, our Dispatch Manager, Ron Antos nominated BL Duke for an award within the ESGR.  On behalf of the Illinois Employer Support of the Guard and Reserve Awards Committee, BL Duke was chosen as one of Illinois' outstanding employers to win the Above & Beyond Award.  This award recognizes BL Duke for their outstanding support of employees serving in the Guard and Reserve. A ceremony was to be held earlier in 2020, however, due to the COVID-19 pandemic, it was moved to a virtual event.  Accepting the award were Lou and Marissa Plucinski given virtually from the Illinois Employer Support of the Guard and Reserve Awards Committee.
"This is humbling and certainly not expected, but much appreciated," states Lou Plucinski, President of BL Duke.  "Ron has sacrificed for our country and his family and we support him 100%.  We are very proud to have him on our team."
Ron Antos is still enrolled in the Air Force Reserve and continues to work with our team as our Dispatch Manager.  Since Ron started with us in 2018, he's been deployed once for nearly 7 months and continues to participate in annual training.  One weekend a month, Ron heads to Peru, Indiana to Ground Transportation at Grissom Air Reserve where he is a Non-Commissioned Officer.  Ron ensures those he supervises follow Air Force regulations and maintain standards set by the Air Force. Ron's duties in the Air Force in Ground Transportation made him the perfect candidate to run our dispatch operations.  His experience and military work ethic have been a key asset to our team.
We thank Ron, and all uniformed active, retired and reserve United States armed service members, for their sacrifice, dedication, and service to this country. We encourage all employers to hire military personnel, as it has been a great value to our team.
Interested in joining the BL Duke team?  Visit our Career Page and fill out an application!