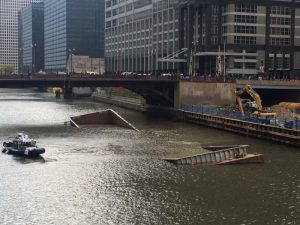 Whatever the scope of the task at hand, B.L. Duke is dedicated to providing a solution for our customers. On October 17th, 2014, B.L. Duke was contacted by a long time customer to salvage and recycle a construction barge that had broken in half and sunk in the Chicago River. The 200′ long barge was being used to haul clay from a high rise construction project before it sunk in the West Loop between  Lake and Randolph street bridges.
As the General Contractor, B.L. Duke's main goal was to safely raise the barge from the bottom of the Chicago River and transport it to a dry dock to be cut up and recycled.  The endeavor was a coordinated effort that included Clark Construction, Ozinga, Thatcher Construction and Roy Strom Trucking and Excavating.  Understanding the urgency of the situation, these great Chicago establishments leaped in with both feet, immediately allocating resources to the project.  The US Coast Guard and Chicago Police Marine Division provided assistance with coordinating commercial and pleasure boat traffic safely around the wreck site.  The Army Corps of Engineers and the USCG Salvage Engineers in Washington D.C. consulted on the salvage plan and issued permits for the operation.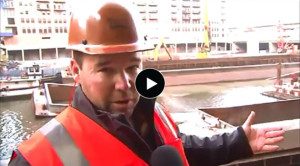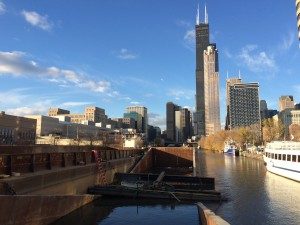 This was an extremely time sensitive operation.  Not only was the barge blocking the way for commercial traffic on the Chicago River, the O'brien locks on the Cal Sag was scheduled to close for reconstruction the 1st week of November.  This closure would block the only other waterway connecting Lake Michigan with The Chicago River, The Illinois river and ultimately the Mississippi.
On November 7th, the barge was successfully resurrected and floated downstream to a safe area in shallow water out of the way of traffic. Many techniques were used in the salvage including but not limited to:  De-watering of the barge tanks using special underwater salvage hatches and utilizing 40′ steel tanks that were floated inside the sunk barge to provide mid-ship buoyancy.  Since the barge was broken in half, another 200′ barge was secured to the side to provide longitudinal stability for the trip downstream.  Two tug boats were needed for the transport. Egan Marine answered the call with their 2200 horse power 120′ tug, the "David E." and The "Keiley E."
B.L. Duke will process and recycle over 550,000 lbs of scrap metal. To learn more about B.L. Duke's recycling programs and value added services, contact us today.