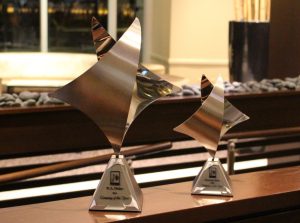 B.L. Duke was awarded this year's Company of the Year by the AWMI, the Association of Women in the Metal's Industry. On September 26th, 2013 the Chicago Chapter of the AWMI hosted their 30th Annual Industry Dinner and Awards Banquet at the Hyatt McCormick Place. The evening started out with a networking session, followed by dinner and then the awards banquet.
B.L. Duke was honored to receive this year's Company of the Year award by the Chicago Chapter of the AWMI. Throughout the year, B.L. Duke has attended monthly meetings, volunteered and sponsored events, and most recently, had one of their very own, Shannon Evoy, appointed to the Chicago Chapter Board. Shannon was also named AWMI's Volunteer of the Year.
Mary Becker, Vice President of the AWMI, presented the award to B.L. Duke stating "Being relatively new to AWMI, B.L. Duke made their presence known through their enthusiasm for the mission of the AWMI."
During Lou Plucinski's, President and owner of B.L. Duke, acceptance speech he thanked the women of B.L. Duke for their hard work in making their company the ever increasing success that it is today and stands to become. He also acknowledged the mutually beneficial relationship between B.L. Duke and the AWMI's and thanked the organization for their support throughout the years.
B.L. Duke, whose senior staff is comprised of more than half females, plans to continue its involvement with the AWMI to support women not only within their organization but also within the industry. According to Plucinski, "our younger staff found mentorship within the AWMI and we hope to think that the women who are now our seasoned vets can provide the same service to others in the AWMI."
After the awards banquet, John Ferriola, President & CEO of Nucor Corporation, presented his keynote address, "Reviving the Metals Industries". Ferriola spoke about the future of manufacturing in America stating, "We all have a choice to make about our future. Manufacturing is going to be an integral point of the future of America. America is not a nation of quitters. That's the American spirit."
For more information regarding B.L. Duke or the AWMI please contact us today.