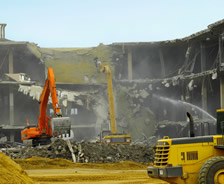 B.L. Duke, scrap metal recycling and demolition company, demolishes and recycles scrap metal and debris from BNSF Project in Chicago, Illinois.
Chicago, IL May, 2012 – Chicago scrap metal company, B.L. Duke, successfully demolishes and recycles materials from BNSF Corwith steel warehouse located in Chicago's Brighton Park neighborhood. Built in 1887, the Corwith Railroad yard was once considered a landmark in Chicago's rich railroad history. For the last several years the abandoned building housed only gang activity and threatened the safety of the surrounding community.
B.L. Duke's innovative recycling practices and safety forward initiatives earned them the project of demolishing the 100,000 sq. ft. facility. During the project's six week span, over 8,000,000 lbs. of demolition debris were successfully reused and recycled. B.L. Duke's crew carefully identified recyclable materials such as sheet iron, steel beams, rebar, and brick. These materials were segregated, processed and recycled at B.L. Duke's Forest View facility. The scrap metal was sold to Indiana mills where it will be manufactured into new products and the brick was sold to local masonry yards.
True to their mission, B.L. Duke diverted all recyclable materials from landfills. "We're excited to implement some of the newest technologies in recycling. This job was a perfect example with over 98% of the demolition debris reused or recycled. Most of all, we're proud to continue our perfect safety record with yet another successful job," says Lou Plucinski, President of B.L. Duke.
Contact B.L. Duke today for any of your Demolition needs!