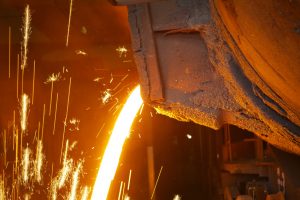 What can we expect to see in the scrap markets in November and throughout 2014? Hopefully something positive! From September to October 2013, we experienced relatively flat markets. October's trading started off mostly unchanged but ended with a slight uptick in obsolete grades from a late push for scrap. No. 1 Heavy Melt settled at $345 per gross ton in October compared to $342 per gross ton in Chicago's September markets. However, No. 1 Bundles remained unchanged from September to October.
Several indicators are forecasting an increase in pricing for November as well as throughout most of 2014. According to an American Metal Market article, "Midwest ferrous scrap prices expected to increase up to $50 per gross ton over the course of the winter, with November likely to kick-start the push for higher prices." Indicators pointing to a strong November and December scrap market include a tight scrap supply, a stronger demand from the mills, growth in the manufacturing sector and an increase in export prices. Several buyers agreed and anticipate a $10 to $20 per gross ton rise in prices in November, and a continued increase seen throughout the rest of 2013.
In 2014, U.S. scrap consumption will increase 7 percent, reaching 64 million tonnes according to the American Metal Market. The main reason for this forecast is based on a lesser need for crude steel to make new finished steel products. There are two types of processes used to produce steel according to www.steel.org, the Basic Oxygen Furnace (BOF) and the Electric Arc Furnace (EAF). EAFs use 100% recycled steel to produce new steel and make up 40% of today's steelmaking processes in the U.S. This will help lead to an increase in demand for scrap metals.
"U.S. scrap consumption will increase at a faster pace than crude steel output next year due to a higher capacity utilization rates at scrap-intensive EF steel mills" (also know as EAF steel mills). Due to the fact that technology is improving in the steelmaking process, less and less crude steel is required to make new steel.
The American Metal Market recently released another article "US steel market outlook bright for 2014," stating the World Steel Association released a short-range outlook for 2014 and has forecasted that steel use in the U.S. will increase to 99.8 million tonnes from an expected 96.9 million tonnes. Director-general, Edwin Basson said, "In steel terms, the United States is increasingly attractive to develop new steelmaking capacity, if you were so inclined to, because energy is cheap and it is a net importing market," he said. "From that perspective, the U.S. today has very exciting opportunities into the future."
We anticipate an increase in pricing for November's Chicago scrap market. Lou Plucinski, President of B.L. Duke states, "After what has been a lackluster year for scrap prices, it's exciting to finally have a silver lining going into 2014."
For more information or any questions regarding scrap metal pricing, please contact us at B.L. Duke today.