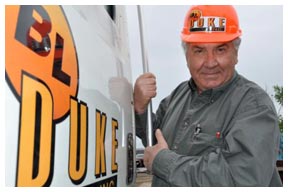 After years of hard work and dedication, B.L. Duke, although disheartened, is happy to announce the retirement of Rick Albrecht, Maintenance & Special Operations Manager. In early 2009, B.L. Duke purchased the heavy hauling equipment of Helders Motor Company and Rick Albrecht, Helder's President, came along for the ride, accepting the offer to join the B.L. Duke team.
Rick Albrecht, also known around the office as 'Uncle Ricky' has been a veteran in the industry for over 62 years. After joining the B.L. Duke team in 2009, his wealth of knowledge and common sense have contributed to B.L. Duke's growth and operations. Although we are sad to see Uncle Rick finally retire, and leave the workforce, we are excited for the well deserved rest & relaxation lifestyle he will be pursuing.
"I plan on taking the wife around the world, not answering the phone and fishing from sunup, till sundown," said Uncle Rick. "I will miss the camaraderie amongst my B.L. Duke family," he added.
The B.L. Duke family wants to wish Uncle Rick the best of luck. We hope you enjoy everyday of your retirement as much as you enjoyed working here!
Helders Motor Company was founded in 1923 by Gerald Helders. In 1961, Robert Albrecht, became the owner of the company and shortly after in 1962 Robert's son, Rick Albrecht, became the President. From your smallest machine to over the top complex moves like delivering the U-505 (a German Submarine captured in World War II) to its final resting place at Chicago's Museum of Science and Industry, Rick has always insured every load arrived safely and on time!