2000
j
BL Duke is established and the first truck is purchased on October 12, 2000.
2004
j
BL Duke moved their Corporate Headquarters to 73rd and Oakley in Chicago, Illinois.
2005
j
BL Duke opened a 5 acre ferrous processing yard in Chicago Heights, Illinois.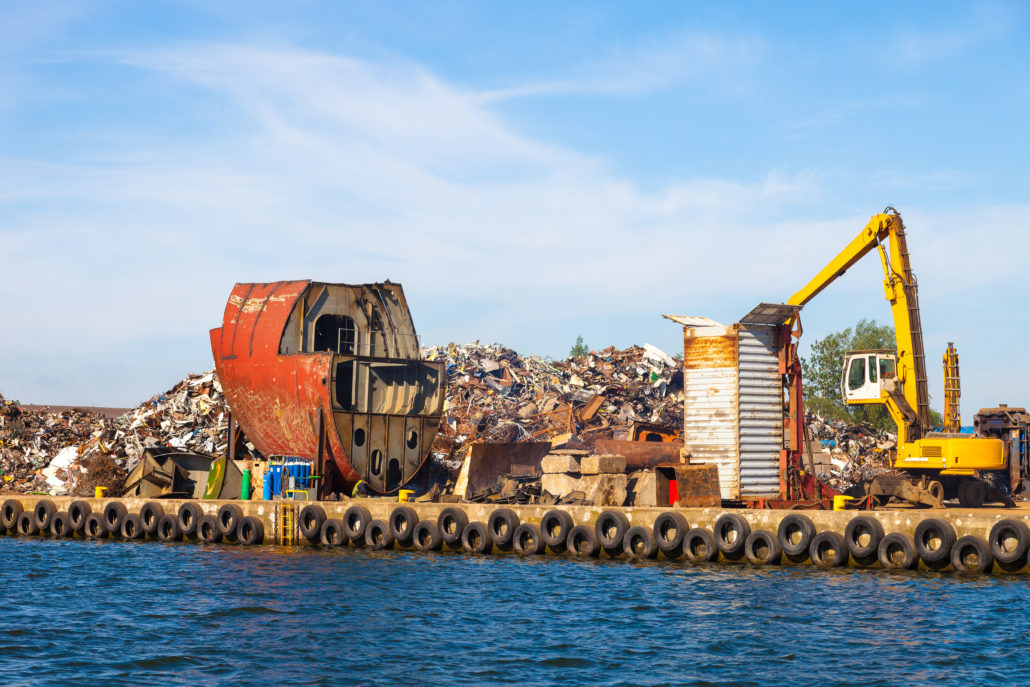 2006
j
BL Duke jumped into the overseas market, purchasing ships to cut for scrap metal.
2007
j
First full time woman, Belinda Nunez, is hired.
"I've kept our accountability charts as a reminder of where we started and how far we've come," says Belinda.
2008
j
BL Duke's demolition division is established to assist it's manufacturing customers with machinery removal and plant clean-ups. This division quickly grows into a stand alone subsidiary taking down buildings, bridges and metal structures.
2009
J
BL Duke purchases the heavy hauling equipment of Helders Motor Company.
2011
j
2013
J
BL Duke wins "Company of the Year" from the AWMI – Association of Women in the Metals Industry.  Within the same year, BL Duke is recognized by the City of Forest View, winning their Award of Appreciation.
2014
J
BL Duke salvages a sunken barge on the Chicago River and is recognized for safely transporting the vessel to a dry dock where it is cut-up and recycled.
2015
J
BL Duke's business doubles in size and earns a spot on Crain's Fast 50. Within the same year, BL Duke takes their talents to the water and  loads their 1st Barge.
2016
J
The Joliet acquisition came equipped with dual barge docks, kicking off consistent monthly downriver barge sales.  Two balers are added bringing their total baling capacity to 1500 tons daily. The acquisition also provided rail service making BL Duke's logistics a triple threat.
2017
J
BL Duke is recognized and awarded by American NTN Bearing for "Continual Improvement and Overall Customer Service."
2018
J
BL Duke acquires an additional 30 acres west of the Joliet, Illinois property.  The new property hosts the Grand Opening of their 250,000 square foot Non-Ferrous Warehouse.
BL Duke was named a finalist for Fastmarkets AMM Awards for Steel Excellence in the Scrap Metal Company of the Year category and earns Crain's Fast 50 once again.

2019
BL Duke is named a finalist for Fastmarkets AMM Awards for Steel Excellence in the Scrap Metal Company of the Year category for the second year in a row.
Receives the Secretary of Defense Employer Support Freedom Award. This award is the highest level of recognition given by the U.S. Government to employers for their outstanding support of employees serving in the National Guard. Out of hundreds of thousands of employers Nationwide, BL Duke is proud to be one of the 15 companies chosen.
2020
J
The Shannon E. Collins Foundation (SECF) was formed. SECF was formed to pay Shannon's many contributions forward and keep her light shining. The Foundation assists individuals through scholarships with the cost associated with attending a private high school, trade schools, or university.
Office of Secretary of Defense awards Mark Reilly, VP of Operations, the Patriotic Employer Award.
2021
j
An additional 1,200 ft rail is extended to their Joliet West facility to allow direct rail access to BLDRT and their Non-ferrous warehouse.
BL Duke launches the national account management to better service their customers with facilities outside the Chicago region.